Kevin Kulwicki, M.D.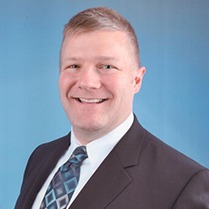 Dr. Kulwicki grew up in Warren, Michigan where he was involved in Scouting, played in the band, and was on the swim team. He is Jesuit trained having attended Marquette University where he majored in Biomedical Engineering and Saint Louis University where he earned his Medical Doctor Degree. He completed his Internship at Madigan Army Medical Center and Orthopaedic Surgery Residency at Tripler Army Medical Center. After serving around the world for 11 years, including a deployment to Iraq in 2005, he left the Army in 2007 to complete a Shoulder and Elbow Surgery fellowship at NYU Hospital for Joint Diseases. He is currently pursuing additional fellowship training in hip and knee reconstruction at Colorado Orthopaedics with Dr John Xenos. He is married to Nicole, who works as a school nurse, and has a daughter, Calla, who is also a swimmer. He pursues hobbies (all of which turn money to noise) including marksmanship and playing the guitar.
As an orthopaedic surgeon, Dr. Kulwicki provides up to date, evidence-based treatment of musculoskeletal problems with the goal of maximizing patient function and returning patients to their normal and athletic activities.
Dr. Kulwicki is a Board Certified Orthopaedic Surgeon who holds the Certificate of Additional Qualification in Orthopaedic Sports Medicine and specializes in surgery of the shoulder and elbow as well as orthopaedic sports medicine.