Christopher D. Joyce, MD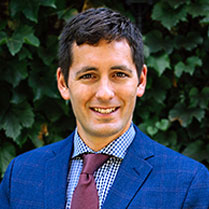 Dr. Chris Joyce is a fellowship trained orthopaedic surgeon that specializes in shoulder and elbow surgery. He attended University of Illinois for his undergraduate degree and Ohio State University for medical school. He completed his orthopaedic surgery residency at University of Colorado and went on to do an additional year of shoulder and elbow fellowship training at the Rothman Institute at Thomas Jefferson University in Philadelphia.
Dr. Joyce treats all conditions of the shoulder and elbow. He specializes in open and minimally invasive arthroscopic treatments for arthritis, rotator cuff and other tendon injuries, overuse disorders, instability, and fracture care. He has a particular interest in caring for patients with complex problems that involve failed previous surgeries, bone or joint deformities, and irreparable tendon tears.
Dr. Joyce believes that research is integral to improving patient care, and he remains actively involved through presenting and publishing original articles, review papers, and book chapters. In his free time, Dr. Joyce enjoys running, hiking, and spending time with his wife and daughters.