Dann C. Byck, M.D.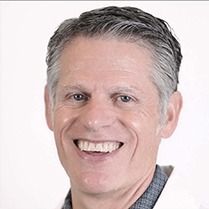 Dann C Byck, MD, is a Board-certified Orthopedic Surgeon who specializes in sports medicine and Shoulder Replacements. He performs several Orthopaedic procedures, including arthroscopic surgery of the shoulder, elbow, and knee. Dr. Byck also specializes in Total Shoulder Replacements, Reverse Total Shoulder and Revision Total Shoulder Replacements. Dr. Byck is thrilled to bring his style, experience and expertise to Colorado Orthopedics.
Dr. Byck was fellowship-trained at Mississippi Sports Medicine Center in Jackson, Mississippi. This fellowship is considered amongst the world's best in the fields of sports medicine and arthroscopic and reconstructive surgery of the shoulder, elbow, and knee. Dr. Byck is a Master Instructor for the Arthroscopy Association of North America and has trained many Orthopaedic Surgeons from all over the world. He has been practicing in Ogden, UT since 2002 and will be joining Dr. Xenos and Colorado Orthopaedics in August 2023.
Over the years, Dr. Byck has published in peer-review journals and textbooks. He has lectured at regional and national meetings. His most rewarding academic endeavor has been his association with the Arthroscopy Association of North America (AANA). AANA is dedicated to education, and at the AANA's courses and meetings, Dr. Byck has instructed fellow orthopedists at many courses on shoulder, elbow, wrist, and knee injuries. In addition, Dr. Byck was selected by AANA as a Master Shoulder Instructor. This means that he lectures on, demonstrates, and teaches cutting-edge techniques in arthroscopic shoulder surgery to Orthopedic surgeons at the Orthopedic Learning Center in Chicago. In 2017, Dr. Byck was honored with the Steven Snyder MD award for Excellence in Teaching.
Dr. Byck's current research interests include pain reduction after surgery. He is investigating the use of simple to use electronic devices that have shown excellent results in reducing post-operative pain in Orthopedic surgery patients. Dr. Byck has also been involved in research to develop programs used in industry to reduce workplace injuries and promote long-term wellness.
Dr. Byck is proud to be affiliated with Colorado Orthopaedics and looks forward to hearing, helping and treating patients in the Denver and Colorado Springs area. His personal interests include mountain biking, road biking, reading, traveling, gardening and bee keeping. He is married to the awesome Deanna and has a brilliant son, Max.