Kathy Vidlock, M.D.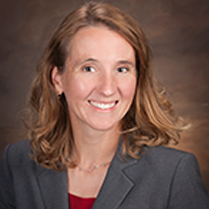 Dr. Vidlock is a graduate of the University of Minnesota-Institute of Technology and subsequently the University of Minnesota College of Medicine. She completed her family medicine residency at North Memorial in Robbinsdale, MN. She completed fellowship training in primary care sports medicine at the University of Iowa. While there, she was a team physician for the Iowa Hawkeyes. She has also obtained certification from the American Registry for Diagnostic Medical Society in musculoskeletal ultrasound.
Dr. Vidlock's clinical interests include non-operative sports injuries, concussion management, ultrasound for diagnostic purposes and injections and athletes with asthma, fatigue and other medical conditions. She has led and served on many medical teams for marathons and triathlons and has been team physician for several high schools. She enjoys helping athletes of all levels, competitive or recreational, get back to their activities.
Dr. Vidlock was a competitive swimmer in high school and college. These days her favorite activity is running trails with her husband. She enjoys hiking with her family, open water swimming with her two daughters and watching her son play tennis.